The following article appears on the Moreton Bay Regional Council's website, about our new shade shelter addition to the clubhouse overlooking oval 2.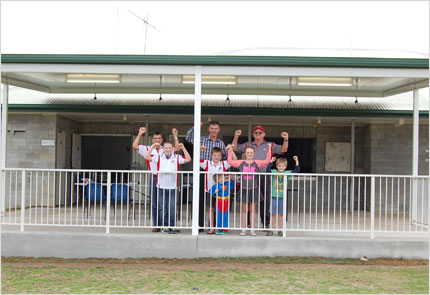 Albany Creek Cricket Club players can cool off in the shade thanks to funding from Moreton Bay Regional Council, the state government and Aspley Hornets AFL club.
Division 9 Councillor Mike Charlton said the club received $55,600 to build a shade structure off the existing clubrooms at South Pine Sporting Complex.
"Council provided a $15,000 Community Grant to help the club improve the facility, which helps with the development of junior sport," Cr Charlton said.
"It's a 10x10m shade structure with a concrete floor, colourbond roof, safety rails and lights in the ceiling for night functions.
"Council's Community Grants support organisations like Albany Creek Cricket Club because they make a difference to local sport and our community.
"This funding was part of $464,000 in grants delivered by Moreton Bay Regional Council to community groups in our 2013/14 grants program."
State Member for Everton, Tim Mander MP said the state government contributed $35,000 to the shade structure under the Gambling Community Benefit Fund.
"This joint funding from the state government, council and a local footy club has improved the facility and given the club a space they can be proud of," Mr Mander said.
"Aspley Hornets contributed $5,600 to the structure because their juniors play at South Pine Sporting Complex.
"This shade structure will benefit the Albany Creek Cricket Club but it will also be used by hockey and AFL clubs."
Albany Creek Cricket Club Club president Steve Casey said the shade structure was finished in July and was in use as soon as the concrete dried.
"Spectators, scorers and club officials are enjoying the shade while the game is on," Mr Casey said.
"It is being used by coaches to address their teams, for club functions and as a place to watch and get ready to play.
"I would like to thank Moreton Bay Regional Council, the State Government and Aspley Hornets AFL Club for their contributions."