The U14 Tomahawks 8-a-side team have won the annual end-of-season Winter Warehouse 8-a-Side Carnival in their age group at Marchant Park on August 4th, 2013.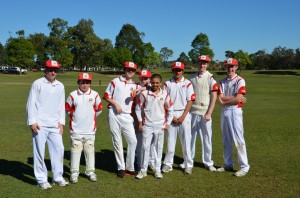 U14 Tomahawks at Marchant Park August 4th, 2013
Left to Right:
Daniel Rohde, Casey McFarlane (c), Caelan O'Callaghan, Nick Rowe (peaking over Caelan's shoulder), Pranav Susarla (front), Chris Brittain, Jack Mackellar, Ryan Macnaught.
---
Game report:
It was a bright and early day for the annual 8-a-side competition at Marchant Park.
It was a day of wins all round for the Tomahawks – captain Casey winning all four tosses and choosing the same strategy each time – bowl first and then chase down a known target.
It was a strategy that worked, as the boys were able to chase down all targets set.
The first game against Pine Rivers got off to an inauspicious start, with their opening batsman Matt Clay hit third ball by a Caelan seamer. He was eventually able to walk off the field but did not return for the rest of the game. We were set our lowest target of the day of 39, with Ryan bowling a double-wicket maiden. Chris and Nick wasted no time in chasing the total. A couple of wickets fell, with Ryan hitting the winning runs.
Game two against Lance Roudenko academy started off with them belting our largest target of the day. Chris and Pranav went for it, and some average fielding from the opposition saw us get away with a couple of skied shots. Chris hit the only 8 of the day for our group, and we passed their score with 8 balls to spare.
After a two-and-a-half hour wait to the next game, Wilston put 51 on us in their seven overs. Daniel and Casey went in to start our run chase, and things got off to a rather slow start. However, they soon got a wriggle on, with Casey hooking most of his 24 runs before being run out with five balls and 3 runs to go. Caelan went in to face one ball, and Daniel
hit the winning runs to progress the team undefeated into the final.
The boys were pumped to be in the final, and although it had been a long day were keen to get into it. With a new ball for each team, we again bowled first and with some sharp fielding managed to keep their total to 50. Chris and Pranav again opened. With Chris nursing a sore hammie, and Pranav obviously tired, they gave it their best shot and were able to pass the Academy's score in the last over without loss, Chris making 35 and Pranav making 15.
All round a great fun day and the boys were elated to have won. Thanks to dads Chris Macnaught and Shane Mackellar for helping to lug the gear from one side of Marchant to the other (literally), and thanks also to our ever-faithful scorer, Christine Rowe.
Fielding:
Catches: Jack Mackellar (2), Casey McFarlane, Chris Brittain, Pranav Susarla, Nick Rowe
Run-outs: Jack Mackellar, Daniel Rohde, Ryan Macnaught
Stumping: Casey McFarlane
Match Stats:
Albany Creek Vs:
Tomahawks Score
Opposition Score
Pine Rivers

40

39
Lance Roudenko Academy

58

57
Wilston

53

51
Lance Roudenko Academy (Final)

51

50
Batting
Chris Brittain
54 runs total
Pranav Susarla
39 runs total
Casey McFarlane
24 runs total
Daniel Rohde
20 runs total
Bowling
Jack Mackellar
4 wickets
Ryan Macnaught
2 wickets