The U14 Tomahawks have narrowly lost to Wynnum in a thrilling final of the Winter Warehouse season on Saturday and Sunday 24th & 25th August, 2013.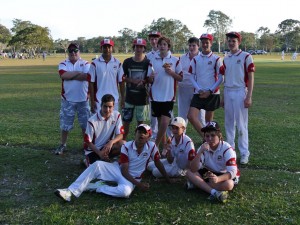 U14 Tomahawks enjoying pizza after the game at Kianawha Park, Sunday 25th August 2013.
Left to Right:
Back: Peter McFarlane (coach), Chris Brittain, Josh Paul, Jack Mackellar, Caelan O'Callaghan, Nick Rowe, James Kennelly, Ryan Macnaught.
Front: Tom Hadden (c), Pranav Susarla, Josh Lam, Casey McFarlane (vc, wk).
---
Game Report:
Losing the toss and, after some indecision from Wynnum, being sent in, play commenced for the last game of the season. Pranav and Josh Lam opened but it wasn't long before wickets started to fall. Pranav was the first, and after a brief entertaining 20 from Chris that included a towering six that hit a tree, he was also back on the sideline. Nick, Tom and James hit a few runs but also fell victim to the Wynnum bowlers.
At the other end, Josh Lam was playing steadily on his way to his maiden 50. At 6/90 in the 26th over, things were looking decidedly shaky. Enter Jack Mackellar, finally getting a chance to use his new bat in anger. Some great hitting in a partnership of 80 with Josh Lam saw the score to 170. Josh fell on 51, after facing 137 balls over 3+ hours.
Josh Paul came to the crease and another partnership developed, with both Jack and Josh also bringing up their maiden 50s in a partnership of 106. Jack fell in the 69th over on 80, with Caelan coming in for one over and getting the score to 284.
After the earlier demise of the top order, it was a relief to see that we had a very defendable score. Jack's 80 was the top score for both teams for the match. Looks like we have an all-rounder in the making (and that new bat is worth every cent)!
Day two started out well but the Wynnum batsmen showed their class and were able to keep up with the required run rate throughout most of the day. The uneven surface of the number 5 oval at KP played havoc with our fielders, with Casey taking a battering behind the stumps, coming home with two badly bruised fingers and floored by a ball in the face at one stage. He still managed to take a catch and stumping off Chris who was the pick of the bowlers with 2/32, taking his season total to 12. Caelan also took 2/54 to take his season haul to 15.
The rest of the boys also put up a good fight, fielding and bowling well and at the last break it was still anybody's game with 65 runs needed and 16 overs to bowl. At one stage it looked like we might make it, but the Wynnum batsmen were able to get across the line with two overs to spare.
Well done to Wynnum and commiserations to our boys – you had a great season and it was my privilege to be the team coach. All the best for the summer comp! Thanks to Christine Rowe for scoring for the whole season, your efforts are greatly appreciated. Thanks also to all the mums and dads for their support – I couldn't have done it without you.
Fielding:
Catches: James Kennelly (2), Caelan O'Callaghan (C&B), Casey McFarlane
Run-out: Ryan Macnaught
Stumping: Casey McFarlane
Game Stats:
Albany Creek Tomahawks
9 / 284
Wynnum Sea Eagles
6 / 290
Batting
Jack Mackellar
80
Josh Paul
52*
Josh Lam
51
Bowling
Chris Brittain
2 / 32
Caelan O'callaghan
2 / 54
Jack Mackellar
1 / 22